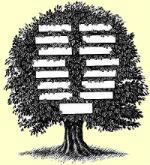 This website contains records on 539 individuals, cross-referenced to 2 sources.
The English surname 'Lockwood' is a habitational name meaning "enclosed wood" and is derived from the place of residence or where one once held land.
Lockwood is the #1567 most common last name 0.008% of last names in the US are Lockwood. Around 20000 people have Lockwood as a last name!
source: namestatistics.com
This is an ongoing project that I'll try to update as often as posible.
Please Contact me if this is of any interest to you and your own research, or if you have anything thing to add or find any errors.
I have not included any details for living people.
Index of names Starting record :Carl Alan Lockwood
Website created by Carl using GEDmill from The Logic Mill.
Created on 12 May 2011